guide to BUDGET camping in australia
There are plenty of roadtrip styles, some travellers prefer to take it slow and stop as often as they can, while others move quickly between towns and cities to take in as many sights as possible. Some backpackers prefer to take the road less travelled, while others prefer to hit up the backpacker hotspots.
But there's one thing most backpackers and travellers have in common, and that's the goal of keeping the trip affordable and a set budget they are trying to stick to.
If you want to know everything about road trippin' around Australia on a budget, then download our Guide!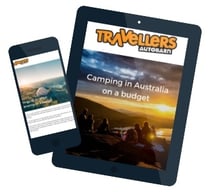 Here's what you can find in the ultimate budget camping guide:
What to bring when camping with kids

How to set a budget

Keeping costs down while driving

Where to stay

Budget camping meals

Things to do that won't break the bank
This guide will be emailed to you within 5 minutes. You will receive future newsletters if you subscribed and are able to unsubscribe at any time. Your data is secure and will not be shared with any third parties.