guide to buying a car or campervan in australia
Australia is a huge country, so you'll soon realise that the best way to see Australia is in a campervan or car. You'll have the freedom to explore anywhere and the vehicle to take you there. Many backpackers spend months in Australia, which means they need to find a way of exploring that's both economical and comfortable. Rather than renting, we suggest buying a car or campervan in  Australia! You always have the option of selling it on afterward. It's a win-win situation.
In order to determine whether purchasing a campervan in Australia is right for you, you need to know a little more about what it involves and what to look out for. Welcome to…The Ultimate Backpackers Guide to Buying a Campervan in Australia for the Journey of a Lifetime.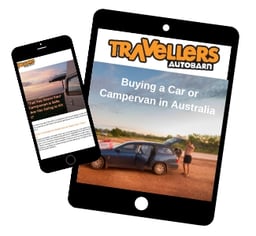 Here's what you can find in the Guide to Buying a Car or Campervan in Australia:
Choosing between a Wagon, Van, or Campervan
Where is it cheaper to buy-Direct or Via a Dealer?
Tips for checking the specs and safety aspects
How to make sure your campervan is legally yours
Kitting out your van
How to sell your van or campervan
This guide will be emailed to you within 5 minutes. You will receive future newsletters if you subscribed and are able to unsubscribe at any time. Your data is secure and will not be shared with any third parties.