guide to FAMILY camping in australia
A family camping holiday, whether it's by the beach or in the bush, is an iconic Aussie tradition.
If you've never camped with kids before, or haven't been camping with the family for a long time then planning time away may seem overwhelming. What do you need to bring? Where should you go? What do you do if it rains?
With some helpful tips and a good checklist it's an easy, cheap and budget friendly holiday! We've put together this ultimate guide to help you get packed up and ready for your next family adventure.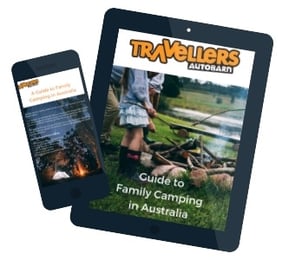 Here's what you can find in the ultimate family camping guide:
What to bring when camping with kids

Family camping spots: Where to go

Tent or campervan? Which is right for you?

Kids Camping Activities

Camp cooking with kids

Top tips for camping with the whole family
This guide will be emailed to you within 5 minutes. You will receive future newsletters if you subscribed and are able to unsubscribe at any time. Your data is secure and will not be shared with any third parties.