guide to FREE camping in australia
Few places in the world are blessed with Australia's stunning nature, and with such a small population compared with the sheer size of the country, there are plenty of free camping opportunities. From the gorgeous coastline to the tropical rainforest and the desert interior, this nation has so much to give. But it's also a fragile land, and its people serve as proud protectors, so it's important to free camp responsibly and leave only your footprints behind.
Our comprehensive free camping in Australia guide has all the bases covered and plenty of top tips, so get planning your Aussie road trip now.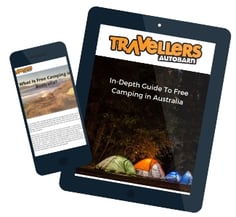 Here's what you can find in the Guide to Free Camping in Australia:
What is free camping in Australia?

What are the rules: Do's and Don'ts?

How to find free campgrounds?

Best Apps for free campgrounds?

Pick the pitch or campsite with the best view - Outback free campsite secrets

How to find free campsites In National Parks

The 3 best free campsites in every state - NSW, QLD, NT, WA, VIC & SA
This guide will be emailed to you within 5 minutes. You will receive future newsletters if you subscribed and are able to unsubscribe at any time. Your data is secure and will not be shared with any third parties.